Gaëlle Courtet
Gaëlle Courtet had classical and contemporary dance training, academic training too at Université René Descartes in Paris.
From 1990 to 1998, at one time she was both an interpret for professional companies (Blanca-Li, Boris Jacta, Laura Scozzi) and active in Paris suburbia to better understand the relation of the general public to contemporary dance creation. Her degree year (1992), devoted to analysing the processes of creation and the social role of art, enabled her to lay the foundations of a more personal research.
In 2008, she decided to attend the course Master 2 Management of Living Arts at Brest university, linking up again with academic deepening and wishing to acquire a comprehensive knowledge of the arts field (administration, law, politics).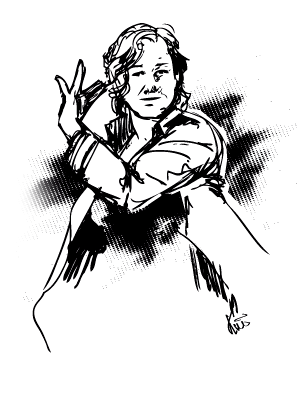 Éric Delpech
Eric Delpech had mime training at Ecole Internationale Marcel Marceau, Paris. Other than mime mastery, the school teaches areas such as contemporary dance and drama.
He then took part in many events, street theatre more particularly, and was an interpreter in professional dance companies (Nathalie Camboni, Christelle François).